FIND A REFLEXOLOGY
CERTIFICATION COURSE
Accredited certification courses are reviewed and approved for meeting the entry level competencies to be eligible to take our RCRT™ Exam.
BECOME A
MEMBER
Membership with the Reflexology Association of Canada provides a range of opportunities, benefits, and services for students and professionals of reflexology.
FIND A
THERAPIST
All therapists listed on the RAC referral page are Professional Members who carry liability and malpractice insurance and maintain the RCRT™ designation (Registered Canadian Reflexology Therapist).
Welcome to
Reflexology Association of Canada
The largest Reflexology Association in North America
We register reflexology therapists in Canada.  RAC is a federally chartered non-profit organization with members across Canada and internationally.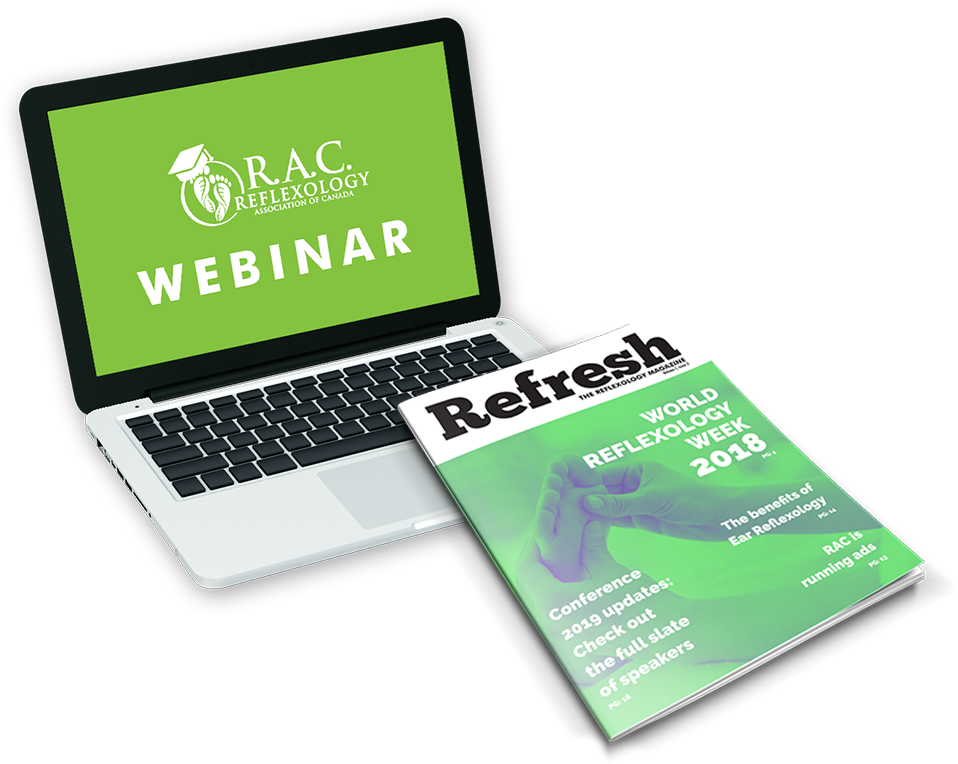 Learn and discover new trends about Reflexology
Webinars and Refresh Magazine
The RAC Refresh Magazine is published by the Reflexology Association of Canada. It is written by reflexology therapists and other complementary health practitioners.Topics are related to the practice, clinical study, philosophy,and business of reflexology.
What is a
Registered Canadian Reflexology Therapist (RCRT™)?
A Registered Canadian Reflexology Therapist (RCRT™) is a professional reflexology therapist who has been properly trained in the techniques of reflexology and/or specialized protocols.
RCRT™s are subject to the highest level of competency through professional level of training and continuing education and are working within RAC's Standard of Practice and professional Code of Conduct.
The Association ensures that all professionals who bear the federally-trademarked designation of RCRT™, abide by these procedures. In this aim, we are protecting the profession as well as the public's interest and safety.
With over 45 years of experience, the Reflexology Association of Canada (RAC) is the largest national professional association of Reflexology Therapists in Canada and the oldest national reflexology associations in the world.
WITH
R.A.C.
MEMBERSHIP
✓ Registered Canadian Reflexology Therapist (RCRT™) Designation
---
✓ Advocacy on your behalf
---
✓ Access to a quarterly magazine
---
✓ Online directory listings
---
✓ Continuing education program
---
✓ Competitive rates on Professional Liability Insurance
---
✓ Preferred rates on RAC advertising, conference fees, products, seminars, webinars, etc.
---
✓ and much more!
Professional Development and Standards
RAC provides educational and professional standards and support for reflexology therapists and those interested in the practice of reflexology. RAC is a truly national association with members and Provincial Chapters across Canada. We are the only reflexology association in the World opera­ting in both French and in English. Our reputation also goes beyond Cana­da. In fact, we also have members in Singapore, Egypt, Jamaica, South Africa, Germany, etc. Join us.
Not a professional reflexology therapist, but still want to be involved and stay informed? We have a membership for you!
The largest association of reflexology therapists
Why RAC?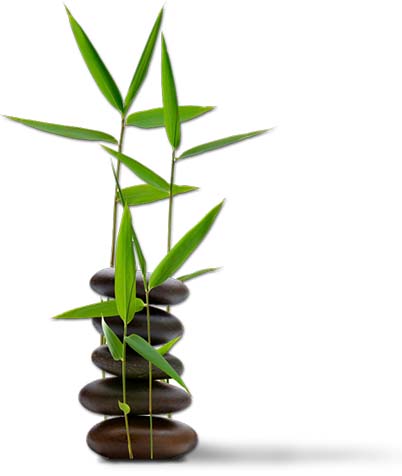 .        The united voice for professional reflexology therapists since 1976;
·         RAC — a trusted and well-established name in the industry;
·         Expertise in advocacy and professional development;
·         The largest association of reflexology therapists;
·         One of the world's oldest reflexology associations;
·         Only reflexology association in Canada operating in both official languages;
·         A truly national organization with representatives from across Canada's provinces;
·         Our reputation goes beyond our borders with members around the world;
·         The federally trademarked Registered Canadian Reflexology Therapist designation—RCRT™;
·         National professional Standards of Practice and Code of Conduct and Ethics;
·         A national registration exam—RCRT™ Exam; and
·         National and public complaints process.
15
Countries around the world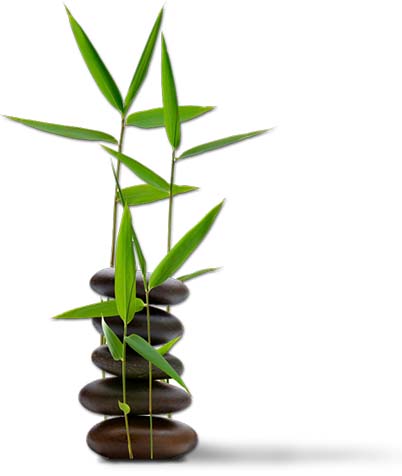 Reflexology Therapy
Applied to specific areas of the body (ears, face, feet, hands etc.)
Promotes a response in an area removed from the stimulated reflex point.
Only the outdoor clothing comes off.
Uses small muscle movements of the hands, thumbs, and fingers.
Improves the function of the organs, systems, and glands through reflexive stimulation.
Healing is based on stimulating the nervous system through reflex points.
Specialized understanding of reflex points and related anatomy.
Massage Therapy
Applied to the whole body (muscles and connective tissue).
Promotes a local response in the muscles and connective tissue.
All the clothes are removed.
Uses large muscle movements of the hands, feet, arms, and elbows.
Changes soft tissue through direct stimulation.
Healing is based on direct muscle and connective tissue contact.
Specialized understanding of anatomy.
Testimonials
What people say about reflexology
I am an 82-year old woman who has suffered from back pain for years and it has kept getting worse. I started reflexology treatments in May 2015. After 15 treatments, I no longer use a walker unless I am going a very long distance. Thank you to Dorothy Sammit, RCRT and to reflexology for making my life more comfortable
Arsenia Marchildon from Ontario
Thank you Quinn Straza, RCRT! Your natural healing gifts in reflexology have helped my pain management for my C7 bulging disc and nerve pain, while I work on my strength. It's so calming, comforting, and feels great! I was surprised that my neuro surgeon recommended reflexology as an add-on to my natural alternative plan to hopefully avoid surgery. Glad to have you as part of my program.
Jacquie Swystun from Saskatchewan