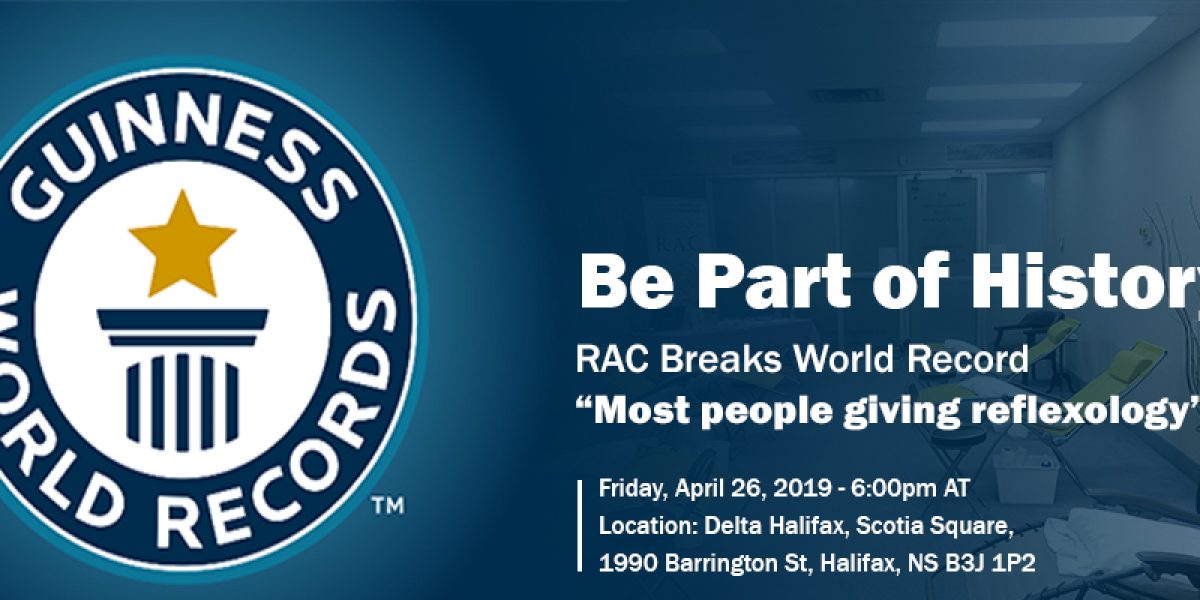 Canadian Reflexology Therapists Set to Break World Record
FOR IMMEDIATE RELEASE
25 April 2019
HALIFAX, NS: The Reflexology Association of Canada (RAC) is set to break the GUINNESS WORLD RECORDS title for the Most People Giving Reflexology on Friday, April 26, 2019, at its 2019 International Reflexology Conference.
"This is such a great way to bring the international reflexology community together in our beloved city," says Donna Jones, the President of the RAC Nova Scotia Chapter.
This is the first time in almost 20 years that Halifax is hosting this conference and the Chapter wanted to leave its mark with this world record attempt.
"Reflexology is growing exponentially across Canada. We are the largest reflexology association in North America, so it should be a formality to break this record," says Marakary Bayo, the Executive Director of RAC.
The current title is held by South Devon College who submitted a record of 37 people on June 19, 2006.
The attempt will take place on Friday, April 26, 2019, at 6:00 pm in the Baronet Ballroom of Hotel Halifax in Halifax, NS.
###
Reflexology Association of Canada
The Reflexology Association of Canada (RAC) is a not-for-profit organization federally incorporated in 1976. It has members across Canada and around the world. The Association exists to unify and advocate on behalf of Reflexology Therapists and to promote Reflexology as a valuable complementary therapy.
About Guinness World Records
GWR is the global authority on record-breaking achievement. First published in 1955, the iconic annual Guinness World Records books have sold over 141 million copies in 22 languages and in more than 100 countries.